Cope Reflects on B1G Medal of Honor, Stepping Up to Continue U-M Swimming 'Legacy'
Electrical Engineering undergrad, Tommy Cope, was awarded the B1G Medal of Honor, which is given to two senior students at each conference university for highest excellence in athletics and academics.
Enlarge
×
ANN ARBOR, Mich. — Tommy Cope recalled gazing up at the names of Olympians and All-Americans on the massive Canham Natatorium record board as a freshman. Their times in various race events represent high standards for University of Michigan swimmers.
Cope, coming off winning Ohio state high school championships in two breaststroke events, wondered if he was ever going to measure up.
"I came from a pretty small school in Ohio," said Cope, who attended Butler High in the Dayton suburb of Vandalia. "When I came to Michigan, all of a sudden I felt like I didn't belong in any of the classes I was in, and thought the only reason I had gotten there was because I could swim.
"Then, in the pool, I wasn't even performing that well. I thought that I was so much slower than everybody else, and that I didn't really deserve to be there. That was my first semester, and it was really hard. But I decided to trust myself and believe that I was good enough to be here.
"I started changing my study habits, and I looked to the leadership on the swimming team and what they were doing. That really helped me, and I grew to be one of the better students and swimmers. It was through perseverance that I was able to do that."
Cope would break the Wolverines' 200-yard breaststroke record and then better it in his final collegiate race, winning the Big Ten championship in a time of 1:51.44 and chopping more than five seconds off his 10th-place finish at the conference meet as a freshman.
"It's a really big honor to be on that record board," said Cope. "There are a lot of fantastic names up there. You look up at that and see Michael Phelps (who trained at but did not swim for Michigan, but holds several Canham pool records) and Tyler Clary and Peter Vanderkaay and a lot of Olympians. So, I feel honored to be a part of that."
He also anchored Michigan's 2020 Big Ten championship 800-yard freestyle relay and was a three-time All-American — becoming one of those "names" that will now inspire those who follow.
Cope recently won the Big Ten's Medal of Honor — awarded to one female and one male in every senior class at each conference school. Winners are selected for displaying the greatest proficiency and excellence in athletics and academics, and Cope was joined by Michigan field hockey All-American Guadalupe Fernandez Lacort.
"It's really a great honor to receive the Medal of Honor and to have continued the swim and dive team's legacy," said Cope. "I'm super honored to be named. I was really surprised because I'm surrounded by so many great student-athletes, just on my team. We have Olympians and people ranked second in the world last year, and they are just so super smart.
It's really a great honor to receive the Medal of Honor and to have continued the swim and dive team's legacy.

Tommy Cope
"I just stared at the email I got for a really long time. That's one of the greatest awards you can get in collegiate athletics, and I couldn't believe it at first. It's an immense honor and I'm humbled to get it."
Cope became the fifth Michigan men's swimmer in the last nine years to win the Medal of Honor, joining Dan Madwed (2012), John Wojciechowski (2014), Justin Glanda (2015) and PJ Ransford (2018).
"PJ Ransford was always helping me in school, swimming and in life," said Cope. "He was like a big brother to me. He taught me well, I guess."
He also credited men's and women's swimming head coach Mike Bottom and associate head coach Dr. Josh White as well as teammates Felix Auböck and Jacob Montague with improving his eating, sleeping and training habits.
Bottom, an assistant coach for Team USA at the 2016 Olympics, has won one national title (2013) and eight Big Ten championships in 13 seasons as the men's coach.
"When I first came in," said Cope, "I was a little mischievous, kind of immature. On the first day, Mike and Josh snapped me into shape. They taught me what it was like to work hard and focus.
"Through their coaching, I not only got faster, but also learned how to manage my time better and do harder work in school. The skills translate. They also taught me how to work well with others and work with a team. Before I got to Michigan, I never got to work on a team. My club swimming was pretty individual. Now, working with others and my teammates is what completely drives me. They are the guys who push me every day, and get in my face to do better every day."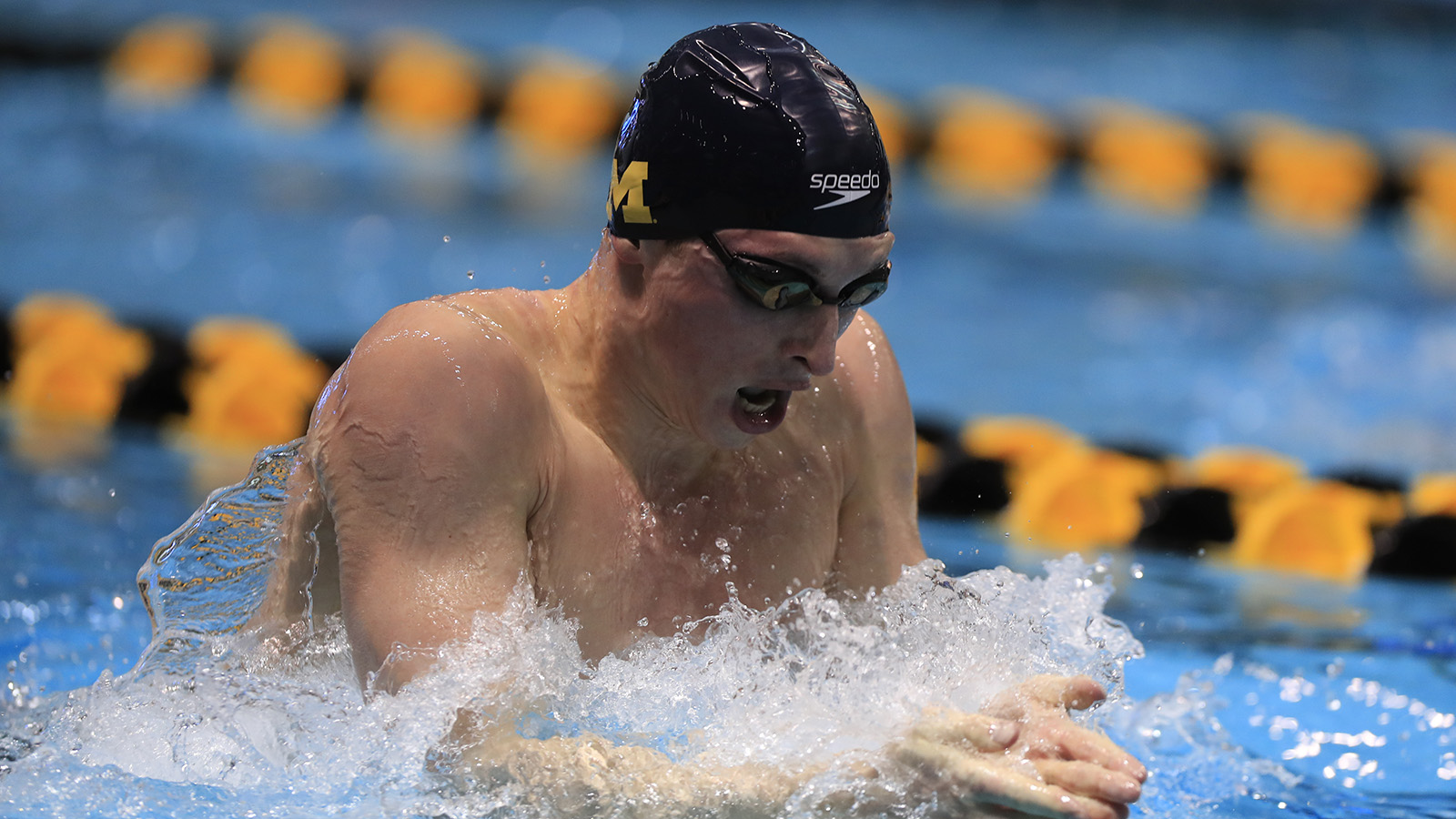 Enlarge
×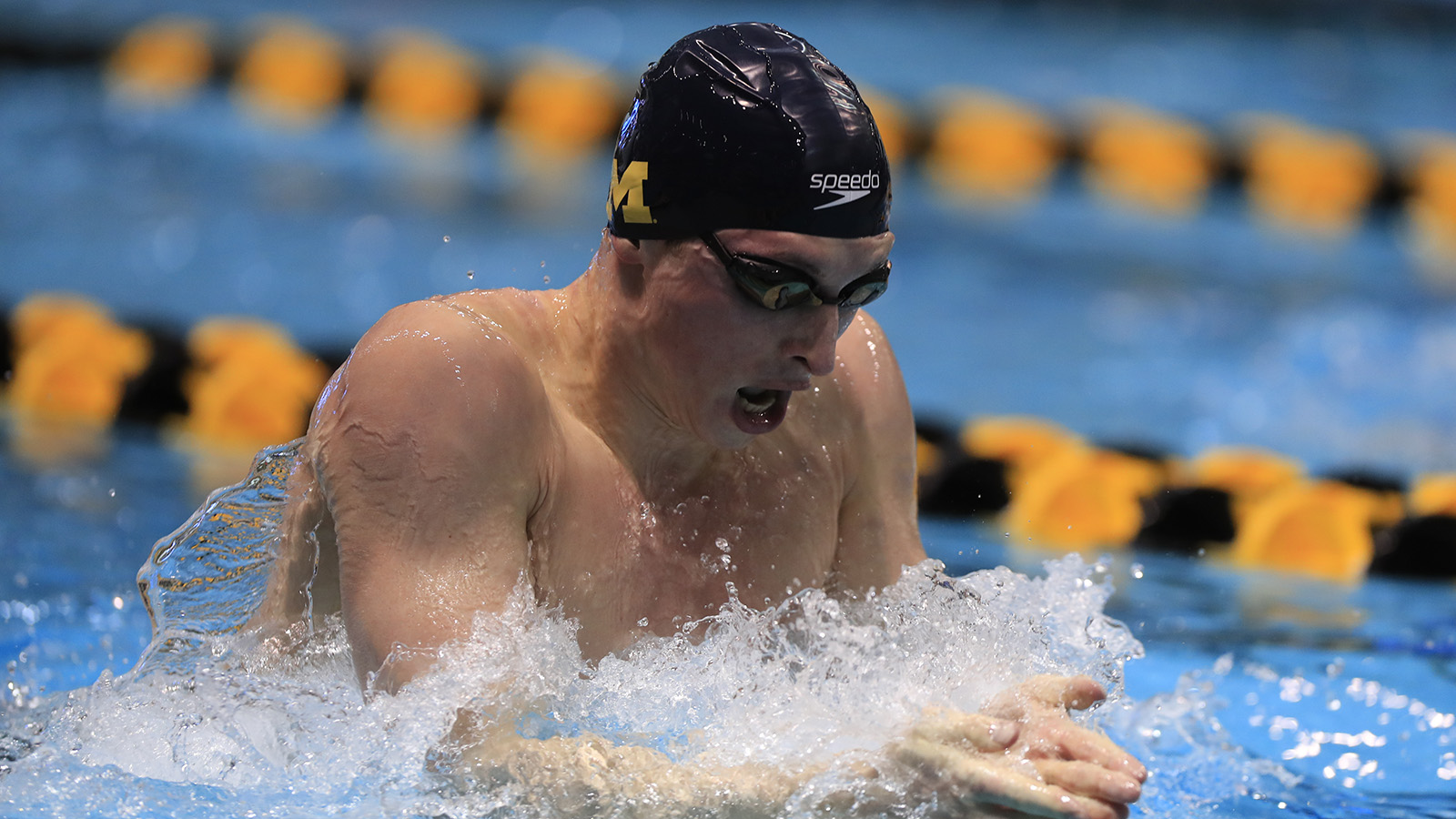 Cope cut 5.2 seconds off his freshman time in the 200 breaststroke by his final senior race.
"My freshman year," said Cope, "I was training pretty well, but I never really saw any improvement in my times. But over the next year, I changed how I approached training and races. I tried to have more fun with them and attack them — rather than worrying about them and trying to be super tactical. Josh knows my personality and knows I like having fun."
White had Cope swim numerous events to increase the "fun" level and reduce the pressure of honing in on his best event.
Cope said, "That's what caused me to drop a lot of time."
He also credited the practice races with teammates. Charlie Swanson (1:52.09) and Jeremy Babinet (1:52.52) are second and third behind him in the Michigan 200 breaststroke record book.
Cope teamed with Patrick Callan, Auböck and Swanson on the conference champion 800-yard relay.
"We were able to bring back the Big Ten title and it was awesome doing it with some of my best friends," said Cope, who was elected a captain by his teammates this season. "It was my first Big Ten medal ever, and I got to stand up on the podium with them and cheer on the team. It was awesome.
"I was nervous to be the anchor because usually that's where a lot of the pressure is. But when Charlie swam into the wall to me, we were half a pool length ahead of the next team. It was a really nice swim because they did all the hard work, but I got the cheers."
Michigan had the third-fastest time in the nation (6:11.46) in the 800 free relay, but the NCAA meet was canceled as sports in the U.S. shut down because of the COVID-19 pandemic.
"I wish we'd have gotten to do it at the NCAAs," said Cope. "I think we could've started the meet off right and shocked the world. It is what it is, but it was awesome to be a part of that relay. It was sad, but public health comes first."
The win he posted in the 200 breaststroke at the Big Ten meet in Bloomington, Indiana, ended up being his final collegiate race.
He was asked what he liked about going that distance with that stroke.
"What appeals to me about that race is that it's a fun race because it doesn't hurt at all in the beginning," said Cope, "and then, all of a sudden, it's really hard. So, you have to swim it the right way. I'm not sure what I like so much about it other than it feels natural to me. It's just long enough for it to be a little bit strategic, but it's not too long."
Cope, an electrical engineering major, was a two-time Scholar All-American and three-time Academic All-Big Ten. He's also been a Big Ten Distinguished Scholar, which requires a grade-point average of at least 3.7, and won Michigan's Bates/Deskins Award as the school's top junior student-athlete. Cope did biomedical and mechanical engineering research with HaptiX Lab and the University of Michigan Hospital, and recently got a paper accepted at the 2020 World Haptics Conference.
He also earned a Big Ten postgraduate scholarship that he plans to begin using this fall while pursuing a master's degree in electrical engineering with a focus on signal and image processing and machine learning.
"I had two teachers that really helped me," said Cope. "Achilleas Anastasopoulos mentored and guided me through. And I did research the past year under Brent Gillespie, a professor in the mechanical engineering department. He also mentored me, and I'm thankful for that as well.
"I want to thank God for giving me the talent and the drive to be able to be where I am today. And then my parents and my family and my coaches, and especially my teammates."
Cope is excited about returning in the fall for graduate school and continuing to train at Canham with an eye on the U.S. Olympic Trials for the Tokyo Games that were delayed to July 2021.
"I guess I'm just taking it one day at a time," said Cope, who is qualified for the trials in two breaststroke and two individual-medley races.
Enlarge
×
Cope quarantined at home in Dayton with his parents, Tom and Valerie, and sister, Grace, a junior at Ohio State. The family did a 100-mile bike trip along the Little Miami Scenic Trail between Cincinnati and Dayton.
"We didn't have things to look forward to," said Cope, "and so I thought it would be fun to take on a challenge. My sister and I had been biking for a few weeks before that, and so I said, 'Why not try to do 100 miles? That sounds like fun.' It felt like a swim meet was coming up, and so I'm really happy that we did it. It got the blood flowing."
Cope was not able to swim until June 2 upon arriving in Cape Girardeau, Missouri, for an internship with Procter & Gamble.
"They have a pool open at Southeast Missouri State," said Cope, "and I'm thankful for that."
Cope had a chance to reflect on his Michigan career in recent weeks.
"It wasn't easy," he said. "I had to work hard for everything I got, but I'm so glad that it was like that because it made it all the more sweeter."
---
This story originally published on MGoBlue.com